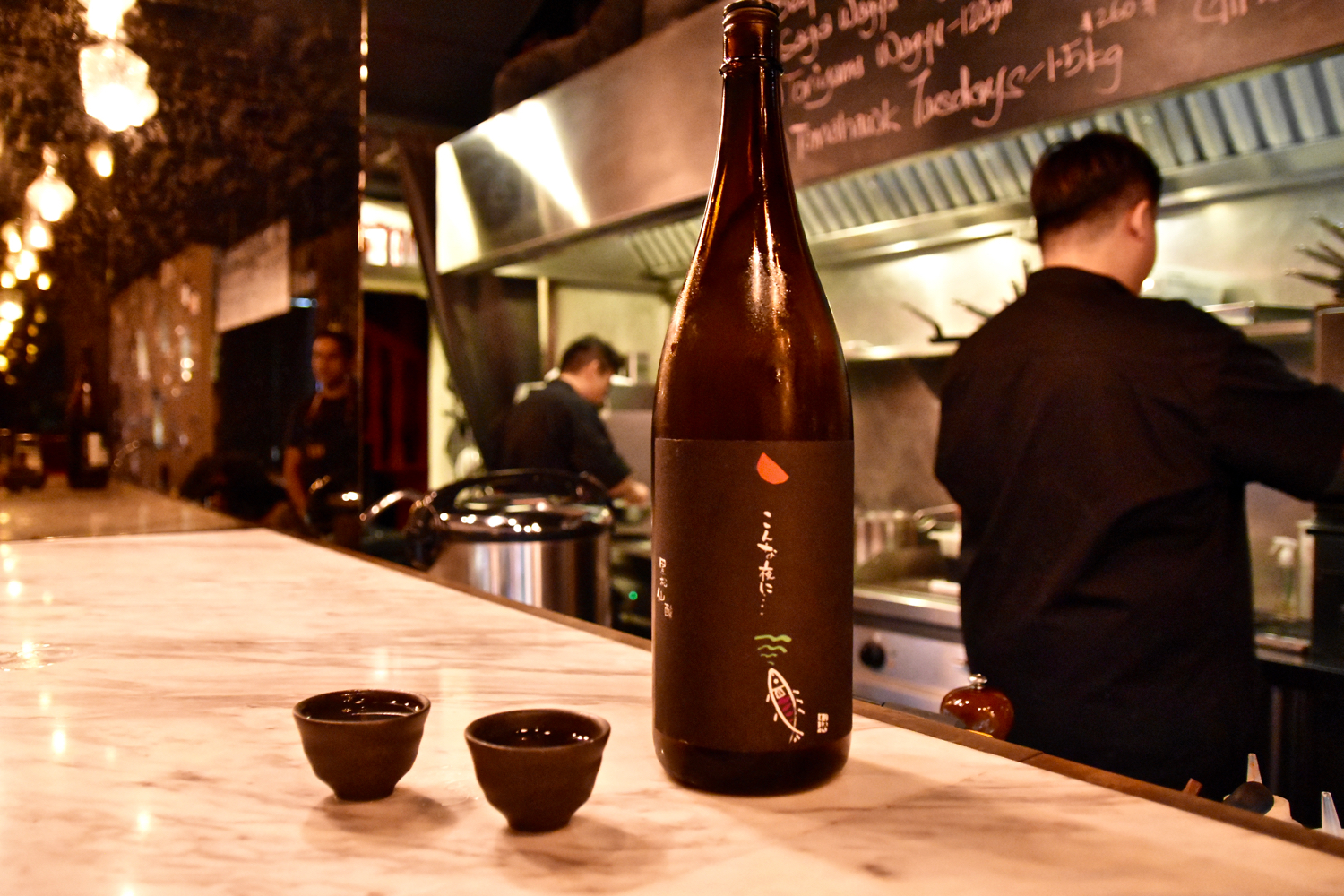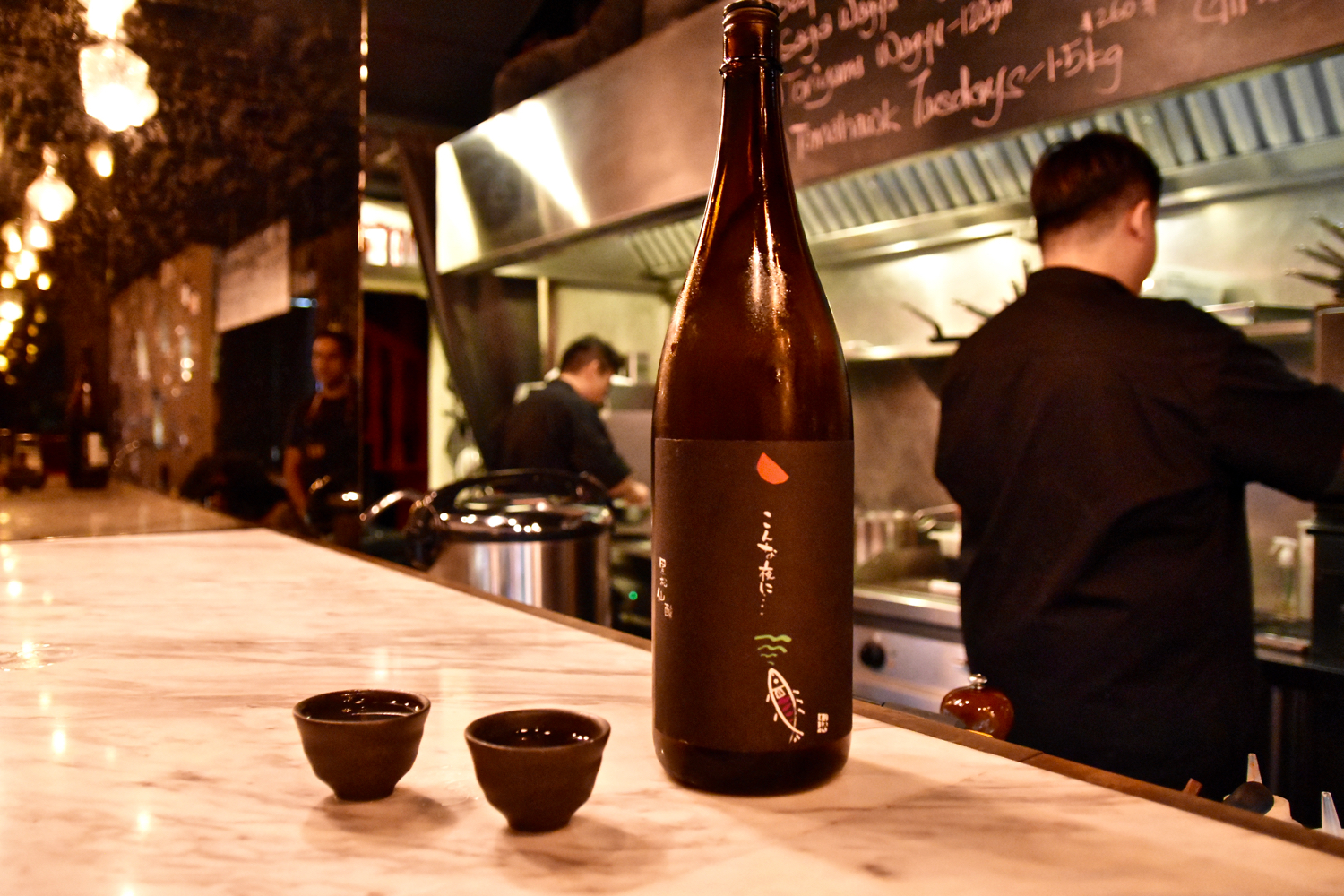 Izy is a highly regarded establishment located on bustling Club Street, leveraging the social izakaya-style side of Japanese eating and drinking. Izy offers a laid back environment for catching up with friends with a focus on quality food in stylish but comfortable surroundings. The cuisine integrates Western ingredients and techniques with traditional Japanese cuisine such as tempura, sushi and sashimi. A selection of sakes complement the sophisticated menu.
The restaurant's clean design features a majority of seats at the kitchen counter allowing a more personal experience with the kitchen. Magically lit, the space glows in soft light.
We left our dining experience in the hands of Chef Wesley Liong who delighted us with the restaurant's highly popular omakase menu.
We began with a beautifully presented plate of Uni and Kyabia. Submerged within flavoursome Happo Dashi Sauce, a list of premium ingredients graced our tastebuds - delicate sea urchin, ama ebi, crab meat and caviar.
The Sashimi Moriawase we experienced was staggeringly fresh and exquisitely textured. The plump, sweet scallops beggared belief - some of the most delicious we have encountered. It is clear that Izy is using only the freshest, highest quality seafood.
Although it is easy to get carried away with the sushi and sashimi on offer, Izy also serves up Japanese favourites of the non-raw variety.
The Saikyo Miso Foagura was stunning. The charcoal grill foie gras marinated with saikyo miso was perfectly balanced with the sweetness of the mango purée, freshness of the diced strawberries and enlivening tartness of the balsamic lime sauce.
One of our favourite dishes of the evening, the Yaki Maguro Kama captivated with its wonderful smokiness. The meaty and oily tuna collar had been charcoal grilled and served with ponzu sauce, karashi (Japanese mustard), shishitoh bell pepper and ichimi togarashi - again, the flavours were expertly balanced.
Our mains of Mekajiki No Sumiyaki (Grilled Swordfish Steak with Parmesan Cheese and Seaweed Sauce), Tempura Ebi (Deep Fried Tiger Prawn, Wasabi Aioli Sauce) and Wagyu Steak (Charcoal grilled Toriyama wagyu A4 Ribeye steak, Kimchi, Black Garlic, Wasabi, Sea Salt) showcased the versatility of the kitchen.
Our savoury courses came to a conclusion with one of Izy's most famous dishes. Drop the name Izy and the award winning Toryufu Wagyu Don immediately comes to mind. It was an unforgettable dish, for all the right reasons. The Josper grilled slices of Wagyu Beef were beautifully seasoned and served alongside Sakura Osen Egg (encasing dripping egg yolk) and served on fluffy Koshihikari Rice from South Uonuma and last but certainly not least, finished with generous shavings of Black Summer Truffle.
To keep things exciting, we were served our dessert at Caché (Izy's stylish little secret bar hidden at the back) over delectable cocktails. The dessert of Duo of Kuro Goma comprised of homemade black sesame pudding and black sesame ice cream - a delightful adaptation of the traditional.
Izy is a must visit for those looking for a great watering-hole and excellent modern Japanese cuisine using the freshest of ingredients.

Address: 27 Club St, Singapore 069413
Phone: +65 9678 0027
Link: http://izy.com.sg/
Looking for a place to stay in Singapore? Read our review of Oasia Hotel Novena and Village Hotel Katong.