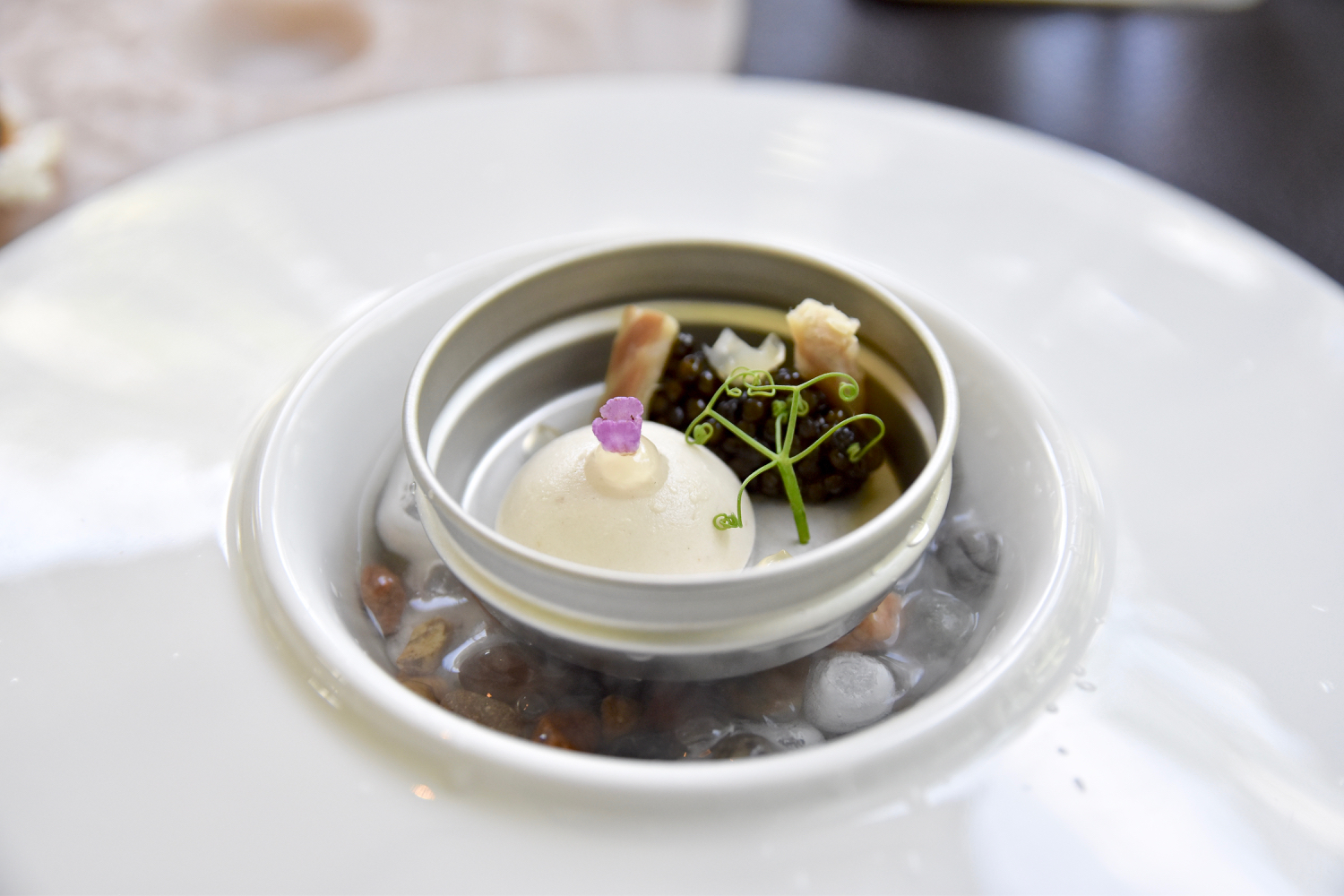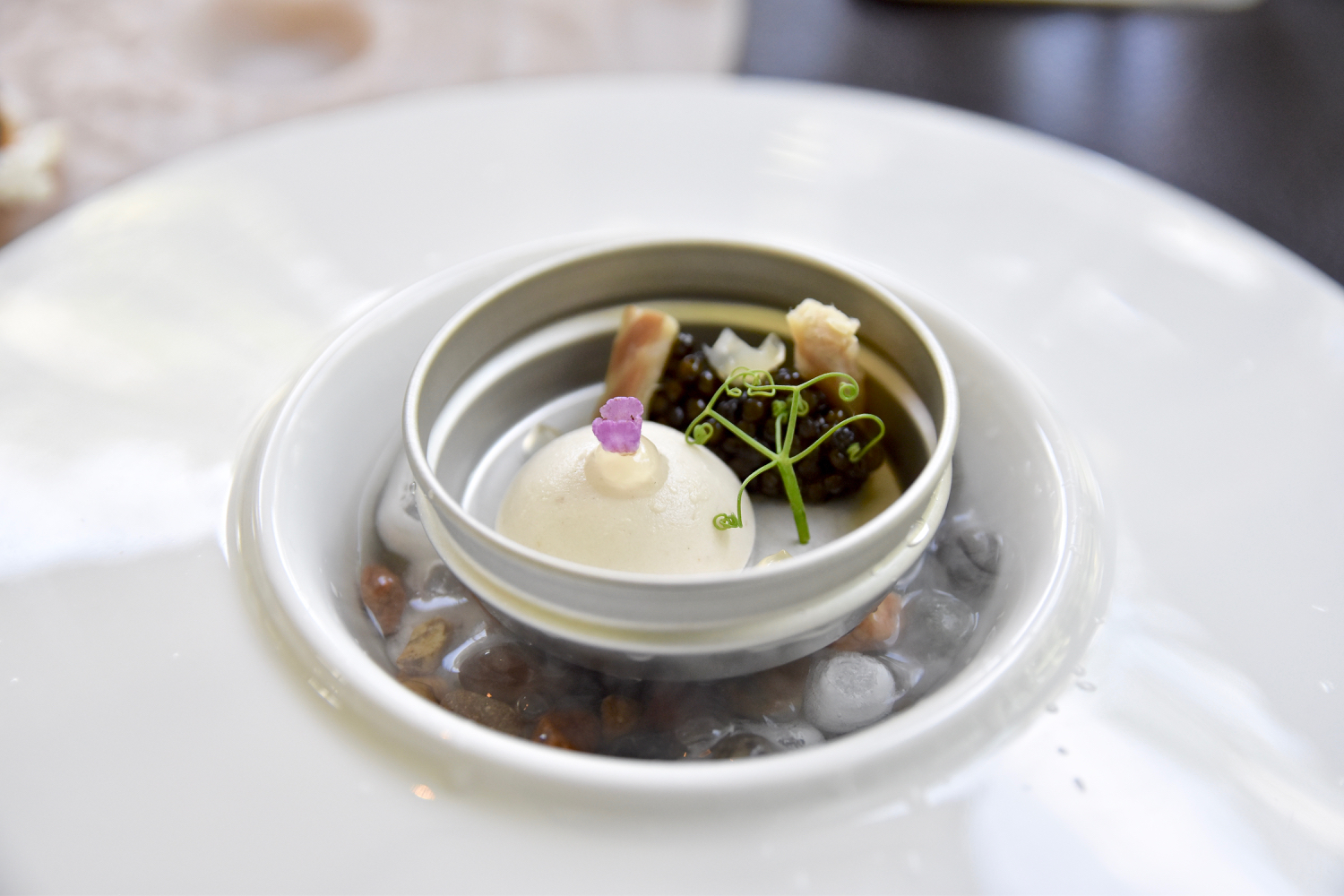 Located on the grounds of the stunning Singapore Botanic Gardens within a historic black and white Bungalow dating back to 1910, Michelin Star restaurant Corner House delivers a multi-layered dining experience featuring truly extraordinary cuisine by head chef and part owner Jason Tan.
Dubbed the 'Suitcase Chef', Jason is an avid international traveller perpetually in search of new ideas and inspiration to bring back to his kitchen. Tan's intense passion for food, an inquisitive mind and dedication to his craft translates into visceral thrills for the taste buds. Grounded in meticulous French gastronomic techniques and combining global flavour influences, the menu adopts a paddock to plate approach and heroes exceptional ingredients, especially herbs and greens - an approach Tan refers to as "Gastro-Botanica".
We were seated on the veranda on the upper storey of the beautiful bungalow. The furnishings are contemporary with an underlying sandy-toned colour palette echoing the stark monotones of the bungalow while delicate botanical prints line the walls. Awash in natural light with panoramic views of the gardens' magnificent greenery, the ambience is hopelessly romantic and ideal for discreet moments of quiet conversation.
We loved being taken on a culinary journey with Tan's Discovery Menu. Each course was perfectly timed with accents and crescendos along the way. We loved the Mediterranean, Southeast Asian, and even Latin American influences in the choices of ingredients, textures and tastes.
We commenced with a generous array of amuse bouches comprised of luxurious ingredients including caviar, captivating sea urchin and briny tobiko - an exquisitely deluxe start to our meal.
Our first entrée, the Carabinero prawn, arrived looking magnificent and tasted exceptional. It was a showcase of Tan's technique, applied in the quest for flavour with a collection of the season's best tomatoes each having been prepared utilising a different method. Finished with vintage sherry and Kristal de Chine caviar, it was a fresh and lively dish.
A signature dish graced us next - "Interpretation of my Favourite Vegetables". Tan took us on a journey with the humble onion. Oignon doux des Cevennes (French Cevennes onions) were prepared three ways. First a crunchy thin slice of dehydrated onion, then an onion bowl encapsulates oven-roasted onion puree finished with generous shavings of black truffle and a perfectly slow cooked egg encasing dripping egg yolk. And the finale, a "cappuccino" of delectably flavour laden sweet onion broth brought together with earl grey tea.
The adventure did not stop there. Next was Tan's "Botanica", a curation of botanicals in a variety of preparations. A work of art in both form and flavour, this dish has to be tasted to be believed.
The mains continued to please with perfectly cooked elements all seamlessly brought together in perfect harmony. Think plush Maine lobster served with Riso, squid, burnt leek, buckwheat and bottarga, New Zealand cod with the crispiest of scales served with tender Brittany cuttlefish, romanesco and a crustacean cider, and a rich finish to the savoury courses of Japanese A4 Toriyama beef, Horseradish, macadamia, black radish, shallot and umami-laden soy caramel. A common thread that becomes obvious throughout is that Tan uses his unquestionable technique to produce highly cohesive, delicious dishes without superfluous elements – every process and component is driven by the pursuit of flavour.
A pre-dessert of pink guava, seaweed, lemon, Saint-Maure, Mara des Bois theatrically served with dry ice signalled the commencement of dessert.
Both of our desserts were spectacular. "Cocoa pebbles" sat atop chocolate soil reveal themselves as spongy Alpaco chocolate mousse concealing a refreshingly tart mandarin filling. The "peanut butter, pandan kaya, toasted bread" was particularly memorable. We loved the intelligent use of contrasting textures, and balance between the salty and sweet elements which produced an exquisitely moreish dessert.
The Corner House presents exceptional cuisine that distils and eventuates the flavour and character of the freshest ingredients. A place where seasonality, provenance, and terroir are embraced. Simply wonderful.

Location: 1 Cluny Road, E J H Corner House, Singapore Botanic Gardens (Nassim Gate Entrance), Singapore
Phone: +65 6469 1000
Link: http://www.cornerhouse.com.sg
Looking for a place to stay in Singapore? Read our review of Oasia Hotel Novena and Village Hotel Katong.